Why You Should Always Bring a Friend to Your Photoshoot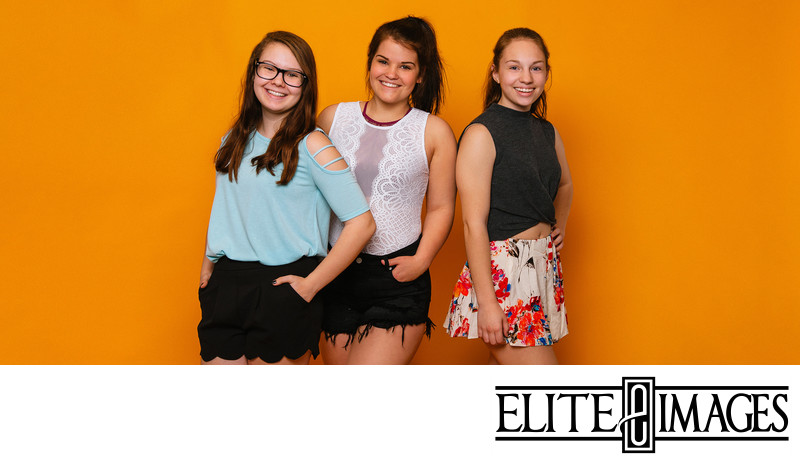 "Can I bring a friend to my photoshoot?" is a question we get asked all the time. Not only do we allow you to bring a friend, we encourage it! Having a buddy tag along for your Senior Photos is a great idea! Here's why:
They're Like Your Personal Stylist
It's your Senior Portraits, so of course you want to look your absolute best! But when you're in the middle of your photoshoot, it can be difficult to pay attention to all of the little details on your own. Having a friend help you out is like having a personal stylist on set! They can keep an eye on your hair to make sure there aren't any fly-aways, they can help you re-apply your make-up, and they can make sure your clothing sits where it's suppose to. Having a friend keep track of these little things means that you can just sit and relax in front of the camera... which brings us to our next point!
They Can Make Your Senior Portraits Stress-Free
We get it... being the subject of a full-blow photoshoot can seem really stressful. Maybe you don't feel confident in front of the camera. Maybe you're second guessing your wardrobe choices. Maybe you didn't really want to be here but your mom is making you.... whatever your reason for feeling uncomfortable, having a friend along for the ride will make the experience a ton better. Just having someone you know around can really help you relax. And when you're feeling relaxed and confident, your senior portraits will turn out great!
They Know How to Make You Genuinely Smile
Not only will a friend help you feel at ease, but they can make the photoshoot fun and bring out genuine smiles. They know exactly how to make you laugh and this can be great to help you have that picture perfect expression. Being able to joke around between pictures can just make the whole photoshoot more enjoyable as well.
NEXT: Winter Family Portraits in Dubuque Arboretum
PREVIOUS: The Great Print vs Digital Debate