Volume Headshots Rate
In a world full of social media, advertising, and competition, how do you make sure your business stands out from the crowd?
The secret is professional portraits that make an impression. Quality headshots of all of your company's employees are essential to giving your marketing a personal touch. But it can be a pain trying to get people to have their photo taken and make sure they all have a consistent look...
That's where we come in!
Our all-in-one packages make the process easy--all the way from scheduling to downloading the final image. The employer can choose the background and look they want, and we'll keep it consistent for all individuals--even when photographing on different days. Each employee or individual can call, email or schedule online for a time that works for them and Elite Images will take care of the rest! We will use the backdrop of the company's choice, photograph the employee, and each individual can choose their favorite image right there. Then we retouch, color correct, and crop their headshot before sending it to the employee and the company's marketing department or chosen contact. Invoices are then sent directly to the company.

We take care of everything so your employees have a quick, stress-free portrait session and you get the headshots your company needs fast!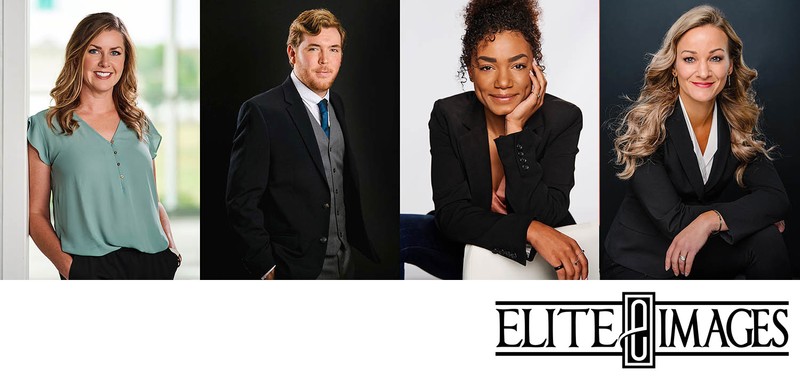 People want to work with people.
Clients are much more likely to trust a business when they know who's working behind the brand. This means that the greatest marketing tool you can have is professional portraits that showcase the friendly faces that make your company amazing.
---
| | |
| --- | --- |
| | "Elite Images is the best studio I've ever been to, bar none. Eric has an amazing eye for detail and did a fantastic job with my business portrait. Everything from his guidance while taking the photos to the speed in which I received the finished product exceeded my expectations. I could not be happier!" --Theresa |
---
What We Offer:
Versatility -

Email signatures, social media, brochures, business cards, website pages, advertisements... the ways to use professional portraits are endless!

Direct Billing -

We'll send invoices directly to your company's billing department.

Fast Turnaround -

Finished Headshots are retouched and ready to download within 1 business day.

Professional & Fun Experience -

Elite Images' photographer, Eric, makes photography sessions comfortable--even enjoyable.

Consistent Look -

We'll use the same background and lighting for each employees' portraits to maintain a cohesive look that goes with your company's branding.

Easy Scheduling -

Individuals can book their own appointments online or by phone (563-583-9369) for a time that works for them.

Affordable -

All Headshot packages are discounted for groups who bring in 5 or more individuals per year. We also offer on-location sessions at no extra cost when photographing 10 or more individuals.
Do you have questions?

Call or Text Eric at

563-583-9369
Volume Headshot Photography Pricing
For businesses, companies, non-profits, and other groups and organizations that bring in 5 or more individuals per year, we offer a special Volume Headshot Rate.
Classic Headshot

---

Simple and quick, this traditional session features only head & shoulders poses--perfect for creating a consistent look for your company.

---

One Outfit

Up to a 15 Minute Session

..1 Digital File (retouched & copyright)

$72




Modern Headshot

---

For Headshots that stand out--this look features contemporary and relaxed head & shoulders to 3/4 length posing--perfect for social media!

---

One Outfit

Up to a 30 Minute Session

1 Digital File (retouched & copyright)

$90

Full Length

---

This session features full length images of the subject that makes them look comfortable & relaxed in front of the camera--perfect for cut-out images.


---

One Outfit

Up to a 30 Minute Session

1 Digital File (retouched with copyright)

$105
*Classic Headshot session offers 8-12 images to choose from **Modern Headshots offers 15-20 images to choose from ***Model session gives you over 100 images.
$55 Additional Outfit or Background
(includes 1 additional digital file retouched with copyright)
Don't have enough to meet the Volume Headshot Rate?
Click here to view our regular rate.
Ready to schedule, have a question or interested in learning more? Let us know!
Call or Text 563-583-9369 or Email info@eliteimages for more info!