Headshots
Headshots by Elite Images is a unique branch of professional photography that goes beyond the standard business portrait. These images portray the confidence and openness you want your clients to see and allows you to give the perfect first impression. We use model-style lighting techniques that lessen the appearance of wrinkles, decreases shadows on your face, and creates a thinning effect by defining your jawline. Through the direction we give, we expertly bring out the best qualities in you using contemporary posing and composition.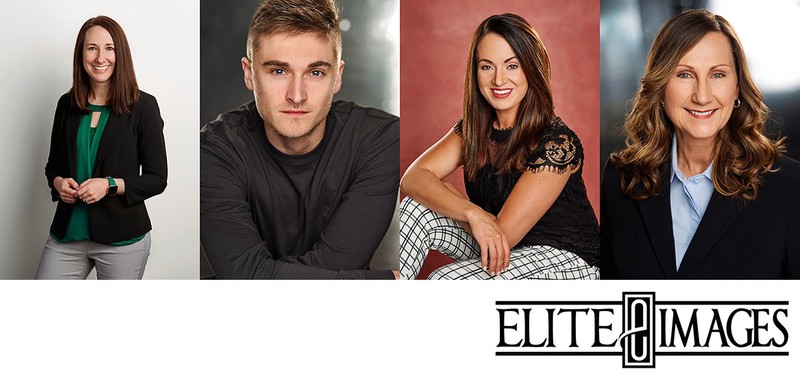 Want to be seen as friendly, relatable, or bold? We'll take time to connect with you and let you relax in front of the camera to capture exactly the attitude you want to portray in your marketing. In a world full of other professionals, a strong image is what sets you apart from the rest and draws in clients.
Your portrait is an investment in yourself and your potential. Take the time to make that first impression right. Your business will thank you.
---
| | |
| --- | --- |
| | "I was in need of updated business photos and chose Elite Images professional branding photo package. It was an amazing experience! Eric was easy to work with and make me feel comfortable throughout the process. He brought me in after the photos were completed and helped me choose which ones best fit my personality and character. So glad I was able to do this at Elite Images!" -Steph |
---
One Photography Session... Limitless Possibilities.
Websites, billboards, business cards, email signature--even social media and dating profiles--the possibilities are endless! Whether you are trying to reach more clients, stand out to potential employers, or make your branding more personable--Headshots by Elite Images will get you the look you need.

Headshot Photography Pricing
Classic Headshot

---

Simple and quick, this traditional session features only head & shoulders poses--perfect for when you want to have Professional Headshot without the extra frills...


A true business classic.

---

One Outfit

Up to a 15 Minute Session

..1 Digital File (retouched with copyright)

$99

Modern Headshot

---

For Headshots that stand out and make people notice--this look features contemporary head & shoulders to 3/4 length posing and gives you a relaxed, professional look--perfect for everything from your business card and email signature to social media and advertising!

---

One Outfit

Up to a 30 Minute Session

1 Digital File (retouched with copyright)

$120

Model Session

---

For anyone looking to update their personal branding or to add new looks to their modeling portfolio--this is the session for you! With the widest variety of looks--from head & shoulders to full length poses--the possibilities are limitless!

---

Unlimited Outfits

Up to 2.5 Hours

All Digital Files with copyright-- Three Files Retouched

$395



*Classic Headshot session offers 8-12 images to choose from **Modern Headshots offers 15-20 images to choose from ***Model session gives you over 100 images.
$65 Additional Outfit or Background
(includes digital file retouched with copyright)
$55 Additional digital file (retouched with copyright)
Click Here to view our Volume Headshot Rate
| | |
| --- | --- |
| | "Had a great time and the shoot was very professional. Will definitely be a repeat customer." -Will |
| | "I absolutely LOVED working with Eric! He listened to how I wanted my Personal Branding photos to look. He communicated very well with me on the expressions I was to make. I was so impressed on the turn out and very pleased! Highly recommend him ." --Vania |


Ready to schedule, have a question or interested in learning more? Let us know!
Call or Text 563-583-9369 or Email info@eliteimages.com for more info!