Choosing the Perfect Yearbook Photo Without Loosing Your Mind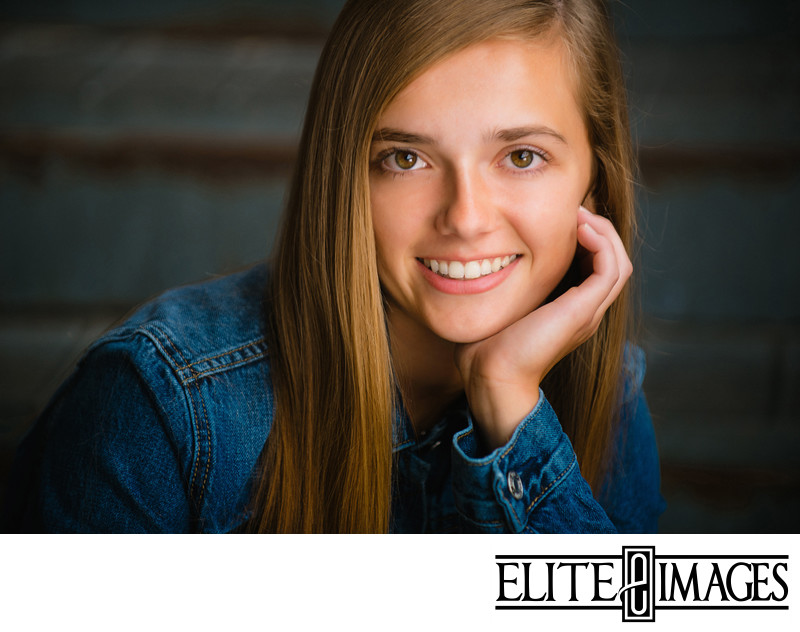 Your senior year is here! Woo-hoo! Before you know it you'll be graduated and off onto bigger and better things! Even though you'll be making a ton of new memories, you'll probably still want to remember your time in high school. For most people, this means getting their senior yearbook. With this, there's the problem of trying to choose the perfect yearbook photo.
Your yearbook photo is how all of your classmates are going to remember you years later... so it's a really big deal! But where do you even start?! How do you choose?!
Well don't go crazy just yet...
We've photographed hundreds of seniors and know what makes a good yearbook photo and what doesn't. So before you get stressed out trying to find the perfect picture, here's a few things to help you make your decision.
Follow Your School's Guidelines
| | |
| --- | --- |
| This image is great! But a lot of schools don't allow props to be used in yearbook images, so the sports gear might be a no-go. | This is also a great image! If your school allows horizontal images, this would be a good choice, but some schools only accept vertical images. Make sure you know the rules so you don't run the risk of having your horizontal picture awkwardly cropped to make it vertical. |
Okay, so following the rules isn't always the most fun... we get it. But, as boring as it sounds, when it comes to your yearbook photo, you want to make sure you meet all of the requirements. This step is so important! Why? Because following the rules is the difference between represented with all of your classmates or totally missing out.
So how can you make sure that your photo makes it into the yearbook? By learning what your school's guidelines are and sticking to that for at least a few shots of your photography session. Does your school have rules about being photographed with props or pets? Does your image have to be a head and shoulders crop? How about the background? Do they accept indoor shots only or are outdoor photos okay? Is there a dress code policy you have to follow?
It's also super important to find out when the deadline is! Most schools set their yearbook deadline for sometime in the fall, so you want to make sure that you have your Senior Portraits taken in plenty of time to get your favorite image selected, retouched, and sent to the yearbook coordinator. Waiting until the last minute to have your portraits taken is a stressful situation that you definitely DON'T need.
So do your homework (as un-fun as that sounds) and know what your school requires for yearbook images ahead of time. Knowing exactly what your school is looking for makes it so much easier to come to your photoshoot prepared. The last thing you want is to go through your entire senior portrait experience and send in your favorite picture just to have it rejected by the yearbook. You'll be glad you followed the rules when you get to see your image in your senior yearbook years down the road with all of the other memories.
Choose Your Outfit Wisely
Alright, so now that you know what your school's yearbook picture guidelines are and you know about any dress code policies that you need to keep in mind... the big question is what are you going to wear?! Obviously, your face is what you want people to remember, but your clothing can certainly make a statement that lasts as well. Here are some things to consider when you're selecting your perfect outfit:
| | |
| --- | --- |
| This outfit choice is cute! The solid blue color is a great choice, but the "cold shoulder" look might go out of style. | A plain colored t-shirt like this is a classic, casual look that won't look out dated for a while. The downside is that might not show your sense of style as much as trendier outfits might. |
Trendy vs. Classic
If you're a fashionista, wearing something super trendy might be tempting. Showing off your sense of style may be important to you for being yourself. The plus side of wearing the latest trend is you will look stylish when your yearbook is first printed. It can also be fun to look back to what was trendy at the time and remember the fads you were into through your clothing. The downside is that, when you and your classmates look back through the yearbook years down the road, your picture might look extremely dated.
If you want your picture to stand the test of time, you may want to choose an outfit that's a little more classic. Things such as solid colored tops and jeans are good for avoiding a look that will go quickly out of date. However, when you look back years from now, you might not have the nostalgia of revisiting what was in style the year you graduated.
What Represents You
Whether you want to go with something trendy or classic, you want to make sure the outfit you wear for your yearbook photo represents you. What is your personal style? What clothes make you feel like yourself? What's your go-to outfit for a night out with friends? You want to wear these kind of outfits for your senior portraits anyway, but it's good to keep in mind especially for your yearbook.
Get Close
| | |
| --- | --- |
| A full-body senior portrait like this is great to hang on the wall or print in a 5x7. However, when printed small in a yearbook, it'll be hard to see your face, so it might not be the best choice for yearbook. | A closer up image such as this one will work better to show off your expression and personality. |
Even if your school doesn't specify a close up (such as a head and shoulders crop) in the yearbook guidelines, it's a good idea to choose an image taken closer anyway. Most senior portraits in the yearbook get printed pretty small, usually about wallet size (2.5" x 3.5"). If you choose a full-body senior portrait, for example, your head will end up tiny. It's important to show off your personality and your expression... and if your picture is taken so far away people can't see it as well! Plus, you want your classmates to remember you and your face, not the scenery around you. You don't have to necessarily choose a traditional head and shoulders, just something a little close.
Last, But Not Least... Ask Your Photographer
If you're stuck and you're not quite sure what will look good, don't be afraid to ask! Here at Elite Images, we taken thousands of senior portraits and we work directly with some of the Dubuque area schools so we have a solid understanding of what works well in yearbooks. We also try our best to keep up-to-date with Dubuque schools yearbook guidelines so we can help you choose the best image.
NEXT: 3 Secrets to Photographing Family Portraits with Young Children
PREVIOUS: Little Distractions That Can Ruin Your Look
You Might Also Be Interested In...