12 Reasons Why Fall is the Best Time of Year for Family Portraits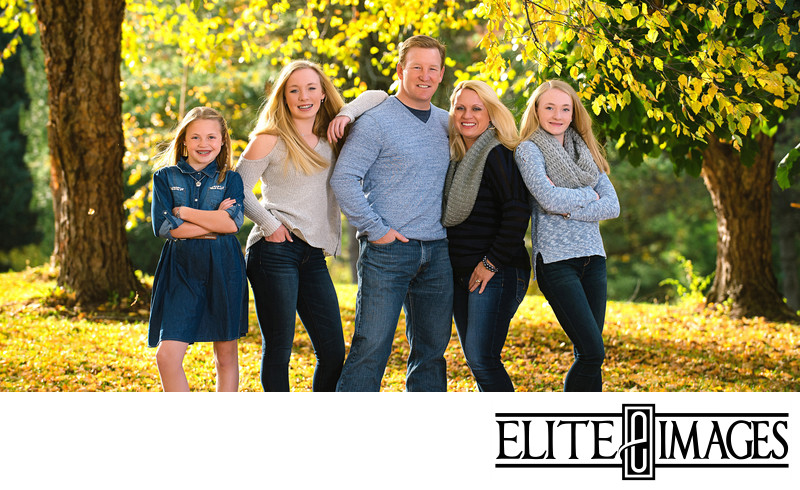 Ahh Fall... the crunchy leaves underfoot, the crisp air, and all of the pumpkin spice everything! While this is also the time to break out that favorite sweater that's been shoved in the back of your closet, it's also the perfect time for Family Portraits in Dubuque!
Okay... well... let's be real... ANY time of year is the best time of year to get your family portraits taken. Each season has it's pros and cons and, in the end, as long as you get your family portraits taken, it doesn't really matter what time of year it is.
But we're a little bias...
We just love photographing family pictures in the fall! We love it so much, we decided to make a whole list about it!
So here are 12 Reasons Why Fall is the Best Time of Year for Family Portraits:
1. Cool weather.
Goodbye summer heat and humidity... hello sweater weather! Standing in front of a camera is instantly more enjoyable when you're not sweaty.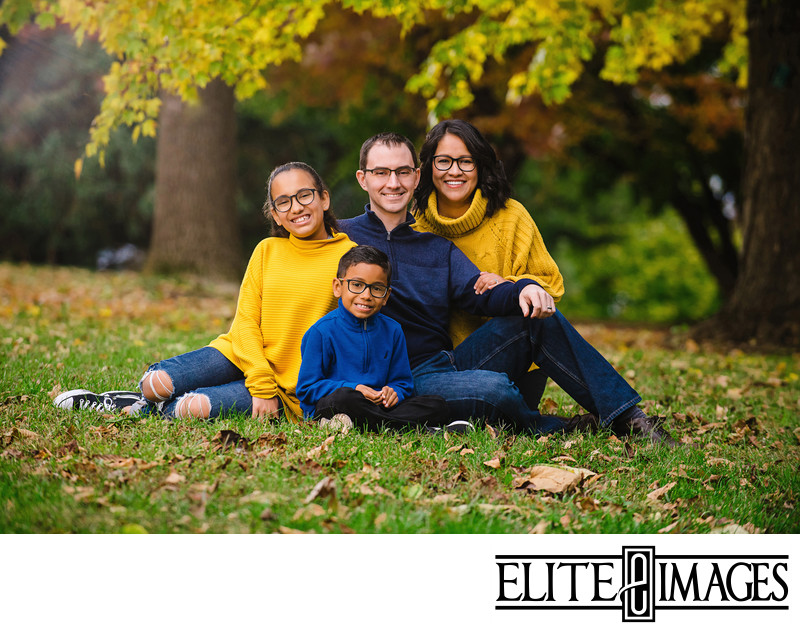 2. Fall colors.
Who knew that leaves could get SO colorful?!
Speaking of leaves...
3. Playing in leaves is just fun!
Especially if you have young children, a few photos of them throwing leaves can be extremely cute! And family pictures of everyone laying in the leaves are just downright fun.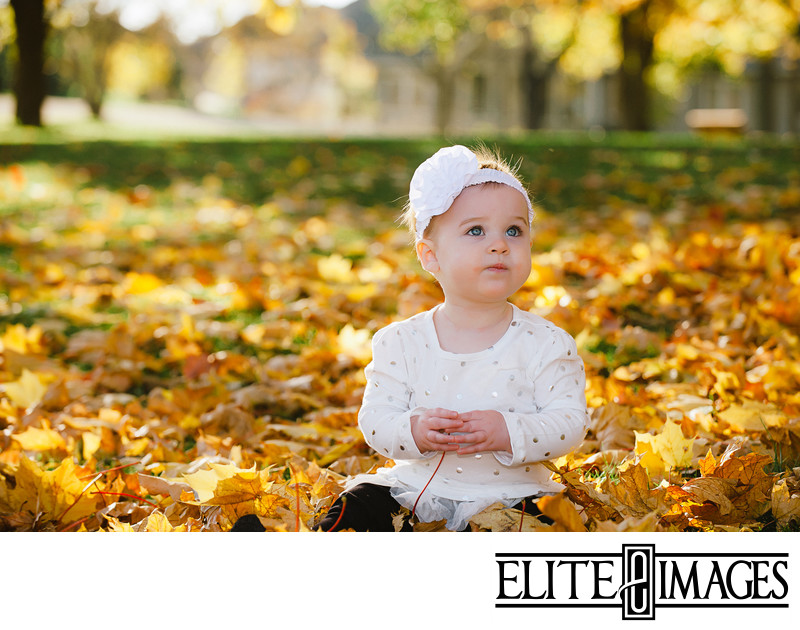 4. Long sleeves make for the best portraits.
We say this ALL the time... eyes go where skin shows. So if you want the attention on your face and not on your arms, we always recommend wearing long sleeves. And fall is PERFECT for long sleeves! You can draw all of the focus on your family's faces without everyone complaining about how hot it is. Now that's a win win!
5. Blue jeans, blue jeans, blue jeans!
To go along with wearing long sleeves, fall is also the perfect time for your favorite pair jeans! Dark jeans are the best for outdoor family portraits--they aren't distracting, they cover your legs so viewer's eyes aren't drawn down away from your face, and they go with just about anything!
6. You have more clothing options!
In summer, you're pretty limited... but in fall you can layer like a champ! Jackets, sweaters, tall socks, boots... there's so many ways to mix and match! And so many textures you can use to add variety to your family's outfits!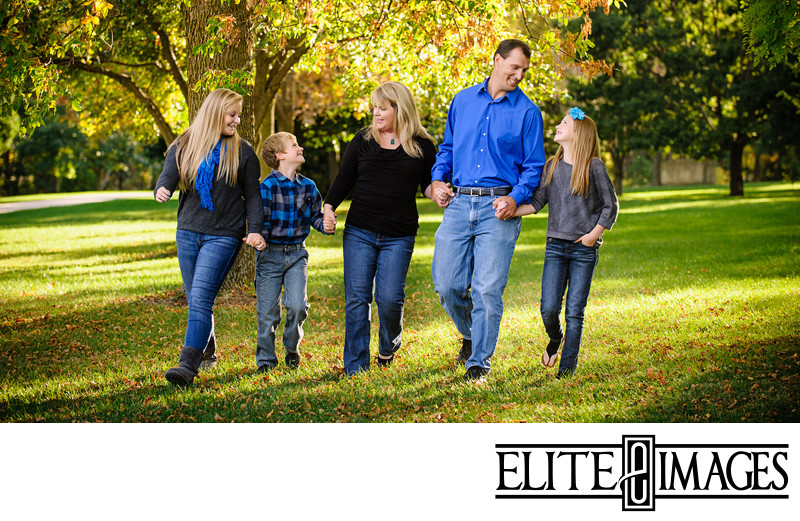 7. Coordinating colors is a breeze!
Another bit of advice we tell everyone is to COORDINATE YOUR OUTFIT COLORS! Okay... that was said loud enough, but what does that mean? Essentially, you want everyone in your family pictures to be wearing colors that all go together so everyone looks unified and your clothes aren't a distraction. In spring and summer, clothing tends to take on a lot of bright colors that can be hard to fit together. But fall clothing tends to be a bit darker and more neutral, making it easier to find pieces that go well in family portraits.
And speaking of clothing colors...
8. Dark to neutral colors compliment most people's skin tones.
What colors go will with your skin tone might not be something you've thought about much, but it can make a difference in your family's pictures! Cool colors, like blue, tend to look great on just about everyone. But so do darker colors and neutrals like greys and browns! And you know what tends to be in darker to neutral colors? That's right... fall clothing styles! (What? That was already stated in the one above? Guess it was just important enough to say twice!)
Want more advice on how to dress for your family portraits?

We know that it can be difficult enough trying to figure out what to wear on a normal day... even more so on your family picture day! To help you out, we compiled all of our best tips and tricks into a single

What to Wear Guide

so you know exactly how to dress your family's best!
9. Neutral tones also look great in most homes!
Close your eyes (okay not right now... when you're done reading this close your eyes)... think about where in your home you would LOVE to see your family portraits. On the wall behind the sofa in the living room? Over the fireplace? Maybe in the dining room? How about the sairway? Wherever you envision your portraits being, think about what colors would go well in that space. Generally speaking, neutral colors work really well in a wide variety of places and with a range of different decor styles. And, as we've already stated, fall clothing tends to be pretty neutral, which would make your family portraits go great in your home!
10. Busy summer schedules are over.
Family vacations, swim lessons, baseball games, summer camp... summer schedules are BUSY! But in fall, with the exception of school starting, there's just so much less you have to try and schedule around, making it easier to get your family portraits taken.
11. Lighting is gorgeous.
One of the most important things for a great family photo is the lighting. In the summer, the sun gets really high in the sky and can be pretty harsh. During the fall, the sun starts getting lower in the sky, making for better lighting in the afternoons. In the fall, it's easy to get that warm, glowy look. Plus, who doesn't love the look of the sun shining through the autumn leaves?
12. Just in time for the holidays!
The holidays will be here before you know it... and you're gonna need to get a gift for grandma! She's gonna ADORE a new photograph of you and your family. Fall is the perfect time to get that taken care of!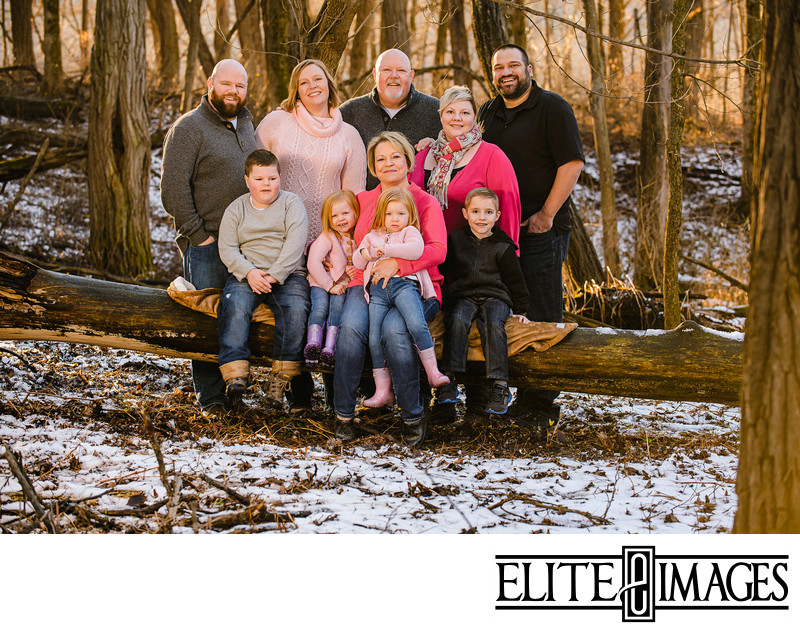 So there you have it... a dozen reasons why fall is, in our opinion, one of the best times for family portraits! Now go forth, throw on your favorite sweater, grab a pumpkin spice something, and get your family's portraits taken! It's going to be the best!
NEXT: The 5 Secrets to a Great Winter Photoshoot
PREVIOUS: Photoshoot with Friends... and Horses!