How to Be More Photogenic in Your Professional Headshots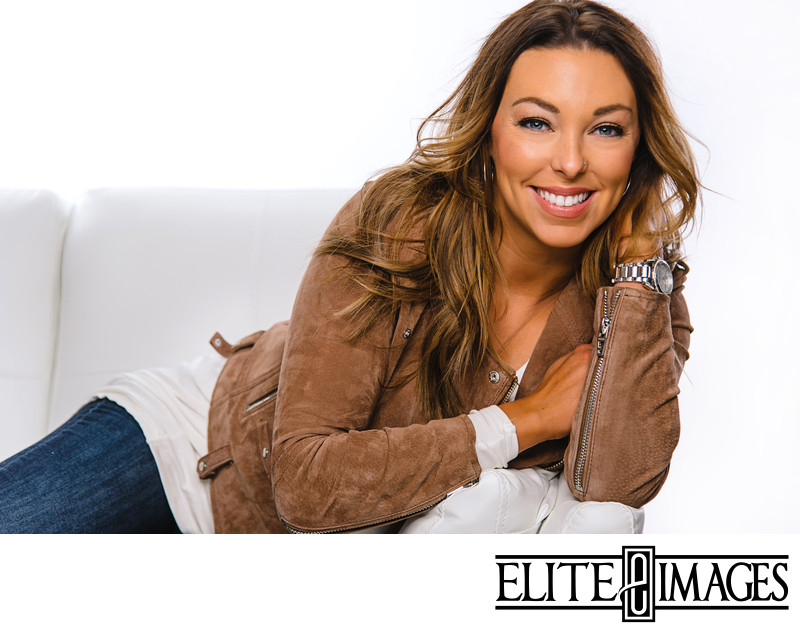 As one of the top dubuque photographers, we photograph hundreds of professional headshots and business portraits a year. With so many people having their portrait taken in our photography studio, we hear these phrases on a daily basis:
"I'm not photogenic." ... "I hate having my picture taken." ... "Can you make me look good?"
Does this sound familiar? If these are things you've said yourself, it's okay! You certainly aren't alone! (Again... we hear this nearly everyday.) So many people are uncomfortable in front of the camera and feel insecure having their picture taken.
But do you know what else we hear every day?
"Wow, I actually look pretty good!" ... "That wasn't too bad," or "That was painless!" ... "That's one of the best pictures I've gotten in years!"
To help you go from "I'm not photogenic" to "I look great!" we'll share our secret to being more photogenic.
What You Feel On the Inside Shows on the Outside
The first thing you need to know is that how you're feeling can directly affect how you look. So if you go into your photoshoot thinking that you're going to look terrible or if you feel awkward... your portrait will probably show that.
Now, we're not going to tell you to just ignore the fact that you have some insecurities and to "just be confident." Unfortunately, it's not that easy for most people. So instead of asking you to pretend to be confident, we're going to help you actually feel confident!
Here's some things you can do to help you feel (and therefore look) confident and relaxed:
1. Take a deep breath. Yes, it sounds cliché, but it works. Just take a deep inhale and exhale slowly a few times before you get in front of the camera and you'll feel more at ease.
2. Sit up straight. It's been proven that your posture and the way you sit and stand affects how you feel. It's hard to feel your best when you're slouched, so sit up while you wait for your photography session to help you feel camera ready!
3. Trust your photographer. There's a reason why we're a professional photography studio--it's our job to make you look your best. Our photographer works with you to make you feel comfortable, gives you direction so you know exactly what you're doing and makes having your portrait taken as smooth and easy as possible. He even helps bring out your confidence during the photoshoot.
Dress for the Camera
How you dress for your professional portrait actually plays a huge part in how the final image looks. If your clothes don't fit properly or have distracting colors or patterns, it can work against you on camera.
How to Dress for a Professional Headshot:
1. Remember that "eyes go where skin shows." This means that the viewer's attention will always be drawn to skin. So wear long sleeves to keep the focus on your face.
2. Wear solid colors. Avoid prints or patterns of any kind--they might look great in person, but on camera they can be very distracting!
3. Dark, neutral, and cool colors work best. Colors such as grey and blue are great go-to's. These help bring out the warmth of your skin and are generally flattering.
What to Wear for Professional Headshots

For a more in-depth looking into how to dress to make your headshots the best, sign up below and we'll send you our free What to Wear Guide.



How to Pose for a Photo
Now that you know what to wear for your professional photoshoot, you need to know how to pose. The best part is that looking great in front of the camera is actually a lot easier than most people think. The most important thing for you to do is listen to the photographer.
A good photographer will tell you exactly what you need to know to look your most flattering. Some of the most common things our photographer will guide you to do are:
1. Lean forward. Most people, because they are uncomfortable with having their picture taken, will lean away from the camera. This causes you to sit at an unflattering angle. It might sound counterintuitive, but leaning towards the camera actually helps you look thinner. And it lessens any "double chin" effect by stretching out your neck.
2. Tilt your chin forward and down. Speaking of getting rid of a double chin, this is the best way to fix it. To get rid of a double chin, most people's first instinct is to tilt their head up to help stretch out their neck. However, this just makes for a great picture up the inside of your nose... and nobody wants that. Instead, our photographer will instruct you to push your chin forward and then tilt your chin down. This is the best way to both make your neck look smooth and tone while also eliminating a double chin... and make it so the viewer isn't just looking up your nostrils!
3. Turn to one side. In most cases, the most unflattering angle for anybody is straight on to the camera (though there are tricks to making it work). Sitting or standing with your body slightly turned away from the camera help you look slimmer.
4. Don't hold your smile. Of course you should smile for your portraits! Just don't hold it too long. Our photographer will usually take a couple test shots to make sure the lighting and camera settings are all correct first--so even though there's a camera pointed at you, don't feel like you have to smile. In fact, between photos, it's best to relax your face and let your smile down for a little bit. If you hold your smile too long it starts looking forced and fake. To keep your portrait looking natural, let your face relax for a second and then build up to a new, fresh smile. Our photographer will always let you know when you can relax and when it's time to shine!
PREVIOUS: The 5 Secrets for a Great Winter Photoshoot