Modern Headshot
The first impression you make is the most important one. As a business professional, your first impression is often your image.
Modern Headshot by Elite Images is a unique branch of business portrait that goes beyond the standard headshot. These images portray the confidence and openness you want your clients to see in a highly contemporary style of photography. We use model-style lighting techniques that lessens the appearance of wrinkles, decreases shadows on your face, and creates a thinning effect by defining your jawline. Through the direction we give, we expertly bring out the best qualities in you through contemporary posing and composition.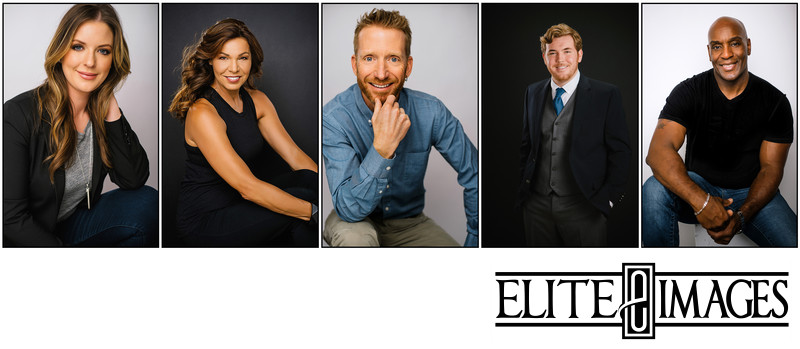 Want to be seen as friendly, relatable, or bold? We'll take time to connect with you and let you relax in front of the camera to capture exactly the attitude you want to portray in your marketing. In a world full of other professionals, a strong image is what sets you apart from the rest and draws in clients.
Your portrait is an investment in yourself and your potential. Take the time to make that first impression right. Your business will thank you.
---
| | |
| --- | --- |
| | "I was in need of updated business photos and chose Elite Images professional branding photo package. It was an amazing experience! Eric was easy to work with and make me feel comfortable throughout the process. He brought me in after the photos were completed and helped me choose which ones best fit my personality and character. So glad I was able to do this at Elite Images!" -Steph |
---
Message From the Photographer


How to Get a Modern Headshot



Step 1: Schedule an Appointment

---

First things first! You can schedule an appointment online by clicking Book Now or calling the studio at 563.583.9369. You can also send us an email at info@eliteimages.com.

Step 2: Arrive at the Studio for Your Portrait Session

---

On the day of your appointment, you'll be greeted at the door and asked to fill out a brief informational card. Then Eric, the photographer, will show you back to the dressing room where you'll have time to check your hair or change your clothes.

When you're ready, it's time for the photoshoot! Eric will guide you on how to sit or stand, so even if you're feeling nervous, he'll help make sure you look your best!




Step 3: Choose Your Favorite Image

---

Either the same day as your photography session or the next day, you'll receive a link to view and download all of your images.

From there, you'll get to pick out your favorite image(s) to have retouched and we'll upload those finished images back to the same link!
What Makes a Modern Headshot Different?
One of the most common questions we get is "How is this different than a regular business portrait?" Simply put, a Modern Headshot photography session is fully custom and tailored to YOU. While Business Portraits use standard backgrounds and standard head-and-shoulders only posing, Modern Headshots allow for a wider range of looks and styles with multiple backgrounds and a variety of poses--including mid-length and 3/4 length compositions.
This means that Modern Headshots are able to capture your professional attitudes and personality much more than a normal business portrait. With a Modern Headshot, we capture who you are, not just what you look like.
Modern Headshot Photography Pricing
One Look

---

One Outfit

Multiple backgrounds


About 45 Minutes

All Digital Files

..1 Image Retouched

Copyright Release of all Images*

(25-50 images)

$230

Two Looks

---

Two Outfits

Multiple backgrounds

About 1.5 Hours

All Digital Files

2 Images Retouched

Copyright Release of all Images*

(50-100 images)

$300

Three Looks

---

Three Outfits

Multiple background

About 2 Hours

All Digital Files

3 Images Retouched

Copyright Release of all Images*

(100+ images)

$400
| | | |
| --- | --- | --- |
| | Additional Retouching - $10 | |
* Copyright release includes both retouched and non-retouched images for use both online and in print.

| | |
| --- | --- |
| | "Had a great time and the shoot was very professional. Will definitely be a repeat customer." -Will |
| | "I absolutely LOVED working with Eric! He listened to how I wanted my Personal Branding photos to look. He communicated very well with me on the expressions I was to make. I was so impressed on the turn out and very pleased! Highly recommend him ." --Vania |
Resources:
Ready to schedule, have a question or interested in learning more? Let us know!